WM Phoenix Open: Buzz or Bust for the Game?
With the highly anticipated Waste Management Phoenix Open coming up this week let's raise the discussion on whether the rowdy, loud and sometimes rude crowds are good for the game or not.
The progressive, open minded folks are all for it as they feel it gives the game a more fan-friendly atmosphere and caters to a wider audience. The famed hole #16 boasts a coliseum-like grandstand that smothers the players as they feather an 8 or 9 iron into the large green. After great shots, fans have been known to throw their beer cans onto the course in celebration, and after bad shots they've been known to throw their beer cans onto the course in celebration. Mix-in too many Coors Lights and an outnumbered security staff and we have ourselves a party!
In the purist's corner, guys like Eamon Lynch from the Golf Channel think the "quiet signs are as useless as a lifeguard watching Michael Phelps in the pool" and that "hecklers should be tazed." Now, tazing would be a tad extreme but the point-made was more one of when fans interfere with the player's mind that we're digressing the nature of the game and interfering with the outcome. Lynch also explains his concerns with this behaviour leaking into other tournaments and altering a once prestigious, gentle- 'person' atmosphere.
Tony Robbins often says: "If you're not growing, you're dying". As long-time advocates and supporters of growing the game of golf, we at Foursum, would agree with Tony. In order to maintain our current players and to appeal to a new crowd we have to adapt our game in a way that keeps the former interested and to gain the interest of the latter. This shouldn't come at any cost, but forgoing some of the old etiquette can't be frowned upon.  If college kids and party goers want to crush beer in the desert heat, then we'd sooner have them do so in our stadium rather than someone else's.
Cheers to beers and sunny days golf fans!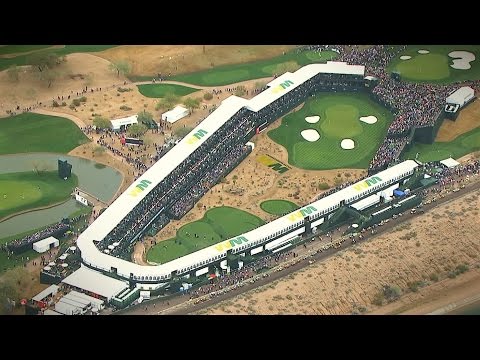 Stay in the loop with Off The Deck